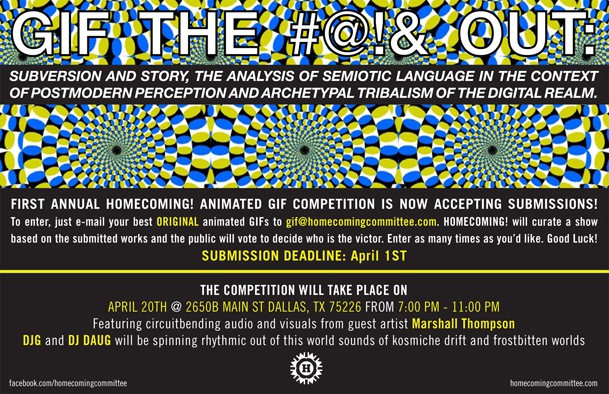 FIRST ANNUAL HOMECOMING! ANIMATED GIF COMPETITION IS NOW ACCEPTING SUBMISSIONS!
GIF THE FUCK OUT: SUBVERSION AND STORY, THE ANALYSIS OF SEMIOTIC LANGUAGE IN THE CONTEXT OF POSTMODERN PERCEPTION AND ARCHETYPAL TRIBALISM OF THE DIGITAL REALM.
To enter, just e-mail your best ORIGINAL animated GIFs to gif@homecomingcommittee.com.

HOMECOMING! will curate a show based on the submitted works and the public will vote to decide who is the victor.
There will be winners, there will be losers, there will be prizes and there will be tears. Good luck!
Featuring circuitbending audio and visuals from guest artist Marshall Thompson
DJG and DJ DAUG will be spinning rhythmic out of this world sounds of kosmiche drift and frostbitten worlds
SUBMISSION DEADLINE: April 1ST
THE COMPETITION WILL TAKE PLACE ON:
APRIL 20TH @ 2650B MAIN ST DALLAS, TX 75226 FROM 7:00 PM – 11:00 PM
Don't know how to make an animated GIF? Here ya go:
• imgflip.com/gifgenerator
• picasion.com/
• tools.dynamicdrive.com/animatedgif/
Please keep submissions under 2mb
Not all submissions will be used, but submit as many times as you'd like.